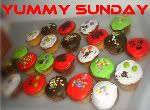 Fruits are healthy, for me, it gives me strength and good health. I chose fruits for my post for this Yummy Sunday, though it's quite late but better late than never, hehe!
I love fruits of any kind except the 2nd photo, I had been trying to eat durian but I can't bear the smell.
Fruits here in Thailand is quite cheaper compared to our fruits in the Phil.
I enjoy eating, my 6-year old loved it too.
More Yummy photos here.
http://feeds2.feedburner.com/blogspot/WtVq