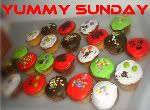 This is the 3rd time that I joined Yummy Sunday. Thanks for my friend Janet for featuring this Yummy Sunday.

A delicious fried chicken from Suan Siam City. A huge park inside Suan Siam.
My 6-year old son loves to eat this. After travelling and riding inside the park, we're so hungry so we bought this spicy fried chicken for each one of us. It's yummy!
http://feeds2.feedburner.com/blogspot/WtVq