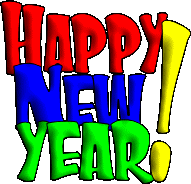 Another year has passed and another year to behold. It's another year to see the goodness of the Lord, and another year to proclaim His faithfulness.
To all my friends here and there, thank you so much for all your comments, I really appreciate it. You had blessed me indeed! Thank you for being a part of my journey here in the blogosphere. It's really a joy to know all of you through your writing skills. I'm blessed and I'm proud to be a part of this world of bloggers.
Blessings to all of you and may He continually bless you with His love and grace!
http://feeds2.feedburner.com/blogspot/WtVq